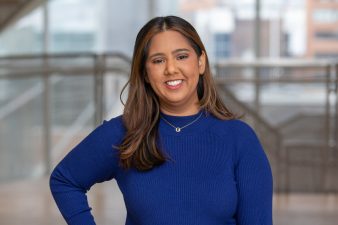 Alexandria Suliman
Education Coordinator, Centre for Faculty Development, Temerty Faculty of Medicine, University of Toronto
Alex coordinates the Anti-Oppressive Healthcare and Atelier: Collaborative Education Research programs at the Centre for Faculty Development. She has been involved in healthcare education through various roles, using her technological, communication and media skills to further knowledge translation. Alex holds a Bachelor of Arts in Cinema and Media Studies from York University.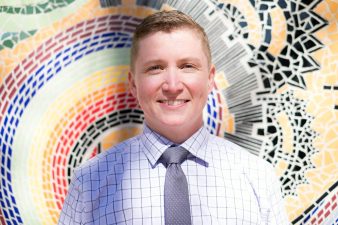 Beck McNeil
Beck previously worked at St. Mike's in both Leadership & Organizational Development and the Education Portfolio, with a focus in education and advocacy on topics of inclusion, collaborative leadership, and interprofessional collaboration for staff, students and patients. As a trans man, he gender transitioned professionally while in the Education portfolio, finding both personal support and also very interesting critical lenses on how discourses of "disadvantage", power, equity, and allyship can play out in the health care system and health professions education. Since he left Unity Health, he served as Director of Organizational Development at The 519 Church Street Community (2SLGBTQ+) Centre, and as the lead for the City of Toronto's Equity, Diversity and Inclusion (EDI) learning program for staff. He has planned and led several educational events for Faculty Development Day and CFD programming, and graduated from the 2016-18 ESP cohort. He has a passion for engaging people in discussions of systemic injustice, and is dedicated to working towards impactful learning at all levels that invites people to see the structures that marginalize people and a to find and authentic path towards confronting those structures discomfort.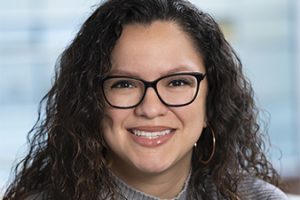 Elizabeth (Eli) Cadavid
Navigating, Negotiating, and Narrating: Re-Envisioning Patient-Centered Chronic Illness Care
Eli Cadavid is the Education Coordinator, Communications & Community at the Centre for Advancing Collaborative Healthcare & Education (CACHE). Eli manages various projects related to the development and delivery of the Interprofessional Education (IPE) Curriculum at the University of Toronto. Eli also manages the Centre's communication processes, including engagement of our interprofessional Community of Practice, Membership Program, and Patient/Client/Family program and initiatives. Eli Co-Chairs the IPE Patient Partner Advisory Committee which works with the Centre to enhance and foster patient/client/family partnerships and leadership.
Eli is passionate about the work and partnerships that have been fostered with patient/client/family partners who collaborate with and advise faculty/programs to develop, plan, implement, assess, and evaluate the IPE curriculum. These partnerships are essential to our work as it meaningfully includes and foregrounds the needs and priorities for patient/client/family-partnered care. Eli is an enthusiastic, self-motivated, and goal-oriented individual with an interest and expertise in c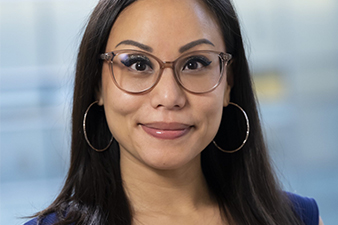 Farah Friesen
Farah Friesen, MI, joined the Centre for Advancing Collaborative Healthcare & Education (CACHE) in a Research & Strategy Associate role beginning September 13, 2021, on the heels of a whirlwind (pandemic-focused) year as the Coordinator, Office of the CEO, Women's College Hospital and a prior 6.5-year tenure at the Centre for Faculty Development (CFD). At the CFD, Farah played a number of pivotal roles including as a knowledge broker, research coordinator, and program coordinator. Trained as a librarian (Master of Information), Farah has a passion for facilitating collaboration and informed decision-making through access to information and knowledge mobilization.
Farah's main research interest is in critically examining traditional academic performance indicators, encouraging alternative perspectives on metrics, and working towards a broader (re)definition of research and educational impact. Farah will extend these efforts into supporting CACHE's research, scholarship, and innovation portfolio.
In her spare time, Farah enjoys working out, thinking about mind-body dualism, following philosophy and psychology debates on free will/determinism, and attempting to watch all the movies from Roger Ebert's Great Movies List (there are close to 500 films and so far she has watched about 300 of them).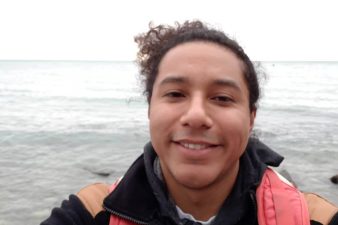 Jeffrey Kiyoshk Ross
Jeffrey Kiyoshk Ross is of the marten clan, and a registered member of Walpole Island Unceded First Nation. He is an Ontario Certified Teacher with over 20 years of communications, journalism, and marketing experience working with First Nation communities and organizations in Ontario. He has been fortunate to teach in Pikangikum, Pickle Lake, and Thunder Bay, and develops and delivers curriculum that is informed by Canada's First Nations, Inuit, and Metis peoples' diverse histories and cultures. He is also an Indigenous consultant who has taught at the Art Gallery of Ontario facilitating discussion on the TRC and Anishnaabek knowledge, and works with organizations to help them inform their hiring practices, help improve Indigenous community involvement, and facilitate cultural competencies. He has a long history of Indigenous program development, intentional community building, and evaluation of learners (both young people and adults).
Lindsay Baker
Associate Director, Curriculum Integration and Partnerships, Centre for Faculty Development
Assistant Professor, Department of Psychiatry, Faculty of Medicine, University of Toronto
Lindsay is Associate Director, Curriculum Integration and Partnership at the Centre for Faculty Development. She has over a decade of experience in health professions education research in the context of faculty development. Lindsay brings this researcher-practitioner lens to her role as program director (Stepping Stones, Best Practices in Education Rounds, Online Supplements for Education) and program developer (Summer Education Institute) and plays an integral role bridging education and research across all of CFD's programs.
Through her work at CFD, Lindsay has established a reputation as an innovative qualitative methodologist and an award-winning educator. Her research uses constructivist and critical approaches to examine the boundaries and relations between disciplines, professions, and knowledge communities. Lindsay also integrates constructivist, transformative, and critical pedagogical approaches to education in her faculty development practice.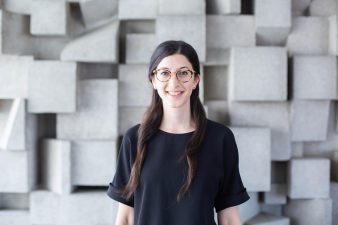 Lindsay Herzog
Lecturer, Department of Family & Community Medicine, University of Toronto and Staff Physician, Mount Sinai Academic Family Health Team
Lindsay Herzog is a family physician at Mount Sinai Hospital and lecturer within the Department of Family and Community Medicine. Lindsay is the Associate Faculty Lead for Portfolio in the Temerty Faculty of Medicine MD Program, and the Equity, Diversity, Inclusion and Social Accountability Lead at the Mount Sinai Academic Family Health Team. Her research focuses on critical and transformative approaches in medical education, seeking to equip trainees with the capacity and motivation to provide care that is equitable and person-centered.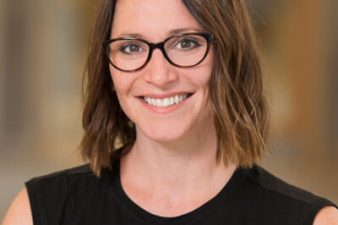 Sarah Wright
Scientist, The Wilson Centre and Michael Garron Hospital
Assistant Professor, Dept of Family & Community Medicine, University of Toronto
Dr. Sarah Wright's research program explores the (un)intended consequences of educational action that occurs in the intersections between assessment theory and practice. Her work is inspired and informed by a decade of experience as a psychometrician at Newcastle University Medical School (UK). This practical experience has given her insight into how assessment frameworks can limit or support educational goals such as fostering compassionate practitioners or striving for social change. For example, she has combined psychometric and critical approaches to investigate the ways in which admissions policies often work to favour culturally and socially privileged medical students, thereby limiting attempts to improve student diversity. Through improved understanding of how emerging education goals transpire within existing education structures, her research seeks to improve education practice.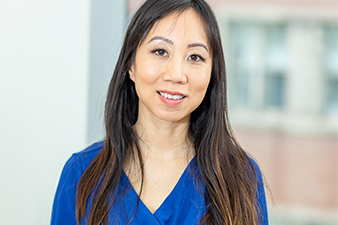 Stella Ng
Director & Scientist, Centre for Interprofessional Education
Program Lead, Teaching for Transformation and Best Practice in Education Rounds Centre for Interprofessional Education
Associate Professor, Dept. of Speech-Language Pathology and the Institute for Health Policy, Management & Evaluation, and Wilson Centre Scientist, UofT
Stella is passionate about the transformative potential of health professions education, particularly critical pedagogies to enhance the collaborative, compassionate, and ethical aspects of health care practice. This passion was sparked by challenges experienced as a pediatric audiologist in the public-school system, which motivated her to study how people respond to value-conflicted, uncertain zones of interprofessional and collaborative practice. Her tri-council-, ministry-, and foundation-funded research thus explores theories of reflective practice and optimizes educational approaches that foster critical reflection, which she mobilizes into her education and leadership work.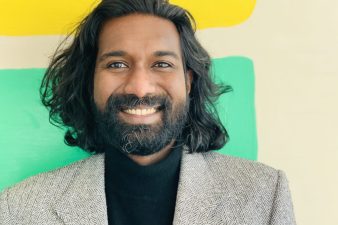 Yasser Ismail
Director of Data Strategy & Knowledge, Casey House
Dr. Yasser Ismail is currently the Director of Data Strategy & Knowledge at Casey House hospital. He is accountable for the organization's inaugural integrated knowledge portfolio including the hospital's analytics team, a client-centered design, evaluation and learning hub, the hospital's research partnerships, and both internal and external knowledge mobilization initiatives. Yasser's doctoral research focused on leadership and change frameworks for engendering hospital-based interprofessional health teams' capacity to deliver intersectional, trauma-informed care to communities at greater risk of HIV/AIDS. Building on this research, he is passionate about driving clinical practice improvement using knowledge production and use grounded in transformative paradigmatic assumptions.  Much of the focus of the initiatives he oversees at the hospital centers on reconciling quantitative and qualitative ways of knowing to enable highly professionalized settings like hospitals to standardize transformative client-centered processes that continually surface, address and measure the needs of people who too often face stigma and discrimination at such settings.